A couple years ago I was standing in the back of a rusty pick-up truck, driving through Jacmel, Haiti.
"Ryan, you've really been relaxed, just going with the flow.  Are you always like this?" (my pastor) Steve's mom asked.
Steve looked at me and we both burst out laughing.
No.  No, I'm not.
I'm a high-anxiety kind of guy.  A worry-wort, as it were.  "Runs in the family," my cousin Heidi told me once.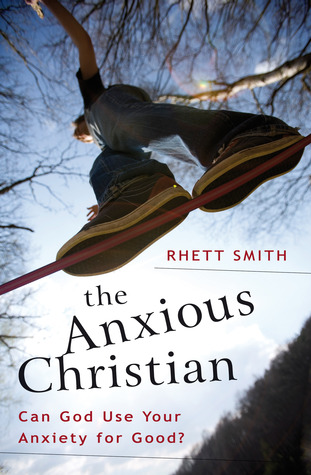 When I saw Rhett Smith's new book, The Anxious Christian, I literally laughed like this: "HAHAHA!"  Literally.  And I hate when people use the word "literally" incorrectly.
Anyway, I ordered it immediately and was not disappointed.
The question in the sub-title should have alerted me to Smith's main point, but for some reason it still blew me away.  Can God Use Your Anxiety For Good?  I started going to counseling to get a handle on my anxiety a couple years ago, but for some reason I had never thought of this idea!  Smith says, "Kierkegaard referred to anxiety as our 'best teacher' because of its ability to keep us in a struggle that strives for a solution, rather than opting to forfeit the struggle and slide into a possible depression."
It's important to distinguish between good and bad anxiety, but of course God can use the good kind!  For example, whenever you attempt something new and you're unsure of the outcome, anxiety exists.  What do we do with it, though?  We can either run and hide, or we can recognize it and go to God with it.  "When faced with anxiety we feel exposed, naked, and vulnerable.  Hiding and covering up is typically how we respond when we feel those things," Smith says.  He goes on to say, "Perhaps anxiety is an act of grace because it encourages us to face our fears, so that we can then choose freely to follow God where He is calling us to."
Smith addresses the notion within many Christian traditions that anxiety is somehow un-Biblical or even sinful.  Philippians 4:6, for example, I now see as an invitation rather than a command.  Choosing to suppress anxiety or to make others feel as though there is something wrong with them because they get anxious is not only unhelpful, but dangerous.
I also loved Smith's point that we are always in the wilderness.  "There is just no way around it," he says.  "The reality of life is that we are constantly moving from one big transition to another.  At moments we may experience a respite from the journey, but that doesn't alter the fact that life is rooted in the wilderness experience of continuous transition and choice."  Whoa.  And this journey we're on doesn't always go as quickly as we want it to.  We live in a society where everything is go go go and efficiency is king.  If you're not DOING, you're not…anything.  And "when we realize God is not in a hurry and we are, our anxiety begins to stir within us."  Donald Miller talked about this at the Story Line conference when he said the Bible uses the analogy of agriculture almost exclusively when talking about personal growth.  Agriculture is not fast, nor is it easy.  My friend Andrew is starting a CSA and has run into problem after problem, reliant on things (i.e. rain) that are out of his control.  He has to be patient and strategic and he has to work hard for a long time before he sees the fruit of his labors.
We must do the same.  And we can expect to have some anxious moments when we do so.  The good news is, God can use that anxiety for good.
I've barely scratched the surface of what you'll get out of The Anxious Christian.  It's easy to read, highly applicable, and incredibly powerful.
Now stop freaking out and go get a copy.
You won't regret it.
You can find Rhett Smith at his blog, follow him on Twitter and "like" him on Facebook.